Cold War Veteran
(^Click^ the red title above to read the article.) 
The U.S.S. Northampton was one of the two "Ghosts of the East Coast."

The COLD WAR

The "Ghosts of the East Coast" were the command communication ships USS Northampton (CC-1) and USS Wright (CC-2) which were known as Presidential Command Ships during part of the Cold War.  CC stands for Command Communications. See "Ghosts of the East Coast:  Doomsday Ships."

"The Cold War was waged to stop the spread of communism. Communism (in a nutshell) required (1) abolition of religion; (2) government ownership of communication, transportation, factories, agriculture; and (3) government control of labor and education. Communism resulted in bloody purges, lethal labor camps, and the cold-blooded murder of multiple millions of innocent people. Lasting from about 1945 to 1991, many experts refer to the Cold War as World War III. It was global, with many facets and changing strategic considerations. During some parts of the period, actual shooting wars were involved, but always it was a political and military confrontation. Many of the personnel losses in the Cold War were on missions that were under the veil of secrecy because it involved various shades of warfare--conventional and unconventional; open and in the shadows." (Adapted from various Internet sources.)
An April 14, 1950 National Security Council Report to the President ("United States Objectives and Programs for National Security") stated "A program for rapidly building up strength and improving political and economic conditions will place heavy demands on our courage and intelligence; it will be costly; it will be dangerous. But half-measures will be more costly and more dangerous, for they will be inadequate to prevent and may actually invite war. Budgetary considerations will need to be subordinated to the stark fact that our very independence as a nation may be at stake.
(https://fas.org/irp/offdocs/nsc-hst/nsc-68-9.htm) 
The report concluded that "The whole success of the proposed program hangs ultimately on recognition by this Government, the American people, and all free peoples, that the Cold War is in fact a real war in which the survival of the free world is at stake."  
(https://fas.org/irp/offdocs/nsc-hst/nsc-68-cr.htm)
"Cold War Veterans answered the call -- drafted or volunteered, when it was popular and when it was not -- America needed it's guardians of freedom and we were there. Cold War Veterans served around the globe for 46 years ensuring freedom would not disappear at the hands of totalitarian communist regimes. Cold War Veterans served at places most of the world never heard of and at locations that made routine headlines. Cold War Veterans served in the air, on land and at sea.  Cold War Veterans served with active duty forces, reserve forces and with the National Guard. Cold War Veterans served with conviction and honor.  Cold War Veterans served in all kinds of roles from the mundane headquarters jobs to the front lines, in the bunkers of NORAD and over Soviet airspace, tracking Soviet submarines and detecting enemy radar and signals along the coast of North Korea and the USSR, deployed to Nike Hercules nuclear missile units that defended such familiar places as New Jersey to forward locations along the Iron Curtain and Korean Demilitarized Zone (DMZ), and in places of which many had never heard.  Sometimes, the Cold War turned very dangerous and Cold War Veterans accepted that risk."
(This paragraph was adapted from: American Cold War Veterans    
http://www.americancoldwarvets.org/About. NOTE: website is no longer active)
Vietnam and Korea were major parts of the Cold War.
"On June 25, 1950, the Korean War began when some 75,000 soldiers from the North Korean People's Army poured across the 38th parallel, the boundary between the Soviet-backed Democratic People's Republic of Korea to the north and the pro-Western Republic of Korea to the south. This invasion was the first military action of the Cold War."
(https://www.history.com/topics/korea/korean-war#section_2)
"The Vietnam War, also known as the Second Indochina War, was a major conflict during the Cold War… The Vietnam War represents the fight between communism and capitalism, the fight of the Cold War.  Basically, the Vietnam War was a microcosm of the Cold War during that time period."
(https://thecoldwarexperience.weebly.com/vietnam-war.html)
"For we are opposed around the world by a monolithic and ruthless conspiracy that relies primarily on covert means for expanding its sphere of influence — on infiltration instead of invasion, on subversion instead of elections, on intimidation instead of free choice, on guerrillas by night instead of armies by day. It is a system which has conscripted vast human and material resources into the building of a tightly knit, highly efficient machine that combines military, diplomatic, intelligence, economic, scientific and political operations. Its preparations are concealed, not published. Its mistakes are buried, not headlined. Its dissenters are silenced not praised. No expenditure is questioned, no rumor is printed, no secret is revealed. It conducts the Cold War, in short, with a war-time discipline no democracy would ever hope or wish to match." 
(President John F. Kennedy 27 April 1961
https://www.jfklibrary.org/archives/other-resources/john-f-kennedy-speeches/american-newspaper-publishers-association-19610427)
In his first State of the Union speech President Dwight Eisenhower said, "There is but one sure way to avoid total war--and that is to win the Cold War." 
(Sauer, Frank. Atomic Anxiety: Deterrence, Taboo and the Non-Use of U.S. Nuclear Weapons. page144. 2017, Palgrave McMillan Hampshire, England)
After Ronald Reagan became president he put in place policies that put pressure on the Soviet Union and said, "Here's my strategy on the Cold War – we win, they lose." (Ronald Reagan, June 1988 http://61538490.weebly.com/ronald-reagan-and-the-evil-empire.html)
We won!
"But the biggest thing that has happened in the world in my life, in our lives, is this: By the grace of God, America won the Cold War."—President George H.W. Bush, State of the Union address, January 28, 1992.
(https://www.cfr.org/blog/history-cold-war-40-quotes)
"And so the greatest of American triumphs... became a peculiarly joyless victory. We had won the Cold War, but there would be no parades." (Robert M. Gates, 1996 https://www.azquotes.com/quote/934297)
---
Cold War veterans seek due recognition for their service
"They may have served in the U.S. military overseas or at a missile base in America. They may have been on secret missions in submarines, in aircraft or on the ground. They are millions of Cold War veterans, who served in the military from September 1945 to Dec. 26, 1991 — the day the Soviet Union dissolved — during pockets of peacetime tension that came during the expansion of communism and the fall of the Berlin Wall.

"Frank Tims, historian and past chairman of the American Cold War Veterans, said a medal or a memorial would "at least get some formal recognition that the Cold War was more than just a period of unpleasantness and that the Defense Department has never owned up to recognizing it."

"Supporters say there are small memorials around the country for Cold War veterans, but they think there should be one in Washington, D.C., which is home to numerous other memorials, such as for World War II and the Vietnam War.

"There has been federal legislation for a Cold War service medal, but the Defense Department, some veterans said, has stymied the idea in prior years.

"A Cold War recognition certificate (see below), established in 1999, is available for service members and civilian workers, according to the Defense Department. There also are commemorative medals sold by private vendors, but they cannot be worn on military uniforms, the department has said."

(Snips from 2014: https://www.usatoday.com/story/news/nation/2014/11/11/cold-war-vets-seek-recognition/18839955/)
House Resolution 900
In the House of Representatives, U. S.,

March 21, 2010.

Whereas the Cold War involved hundreds of military exercises and operations that occurred between September 2, 1945, and December 26, 1991;

Whereas millions of Americans valiantly stood watch as members of the Armed Forces during the Cold War; and

Whereas many Americans sacrificed their lives during the Cold War in the cause of defeating communism and promoting world peace and stability: Now, therefore, be it

Resolved, That the House of Representatives--

(1) honors the sacrifices and contributions made by members of the Armed Forces during the Cold War; and

(2) encourages the people of the United States to participate in local and national activities honoring the sacrifices and contributions of those individuals.

429 Ayes, 0 Nays, 1 Present/Not Voting.

(http://www.govtrack.us/congress/billtext.xpd?bill=hr111-900)
COLD WAR VETERANS ARE STILL WAITING FOR THE BILL TO REACH THE PRESIDENT.
Disgrace: Barack Obama Broke Promise to Honor Cold War Veterans 11-11-12
"President Barack Obama once promised, as a U.S. Senator, to honor veterans of the Cold War, who have never received official recognition and are therefore prevented from full participation in many Veterans Day celebrations. But he never fulfilled that promise--neither in the Senate nor the White House--leaving Cold War veterans in the cold.

"The U.S. has thus far failed to honor those who served in the long struggle against communism, which began almost as soon as the Second World War had ended. Though communist regimes--especially Stalin's Soviet Union and Mao's China, and satellites such as Pol Pot's Cambodia--committed more murders than the Nazis, few Americans are aware of the absolute moral evil that communism represents, or the sacrifices made to stop it.

"The U-2 pilots who provided essential intelligence; the soldiers who kept watch in Berlin; the sailors who were silent sentinels aboard submarines, tracking Soviet movements, ready to strike--all have gone unheralded, and largely uncelebrated, even on Veterans Day.

"It is possible that the reluctance to honor Cold War veterans springs from a political motive. Many on the left opposed the tough line taken against communism... They won the longest and most important war of our nation's history, freeing millions from totalitarianism. But the nation they served has yet to commend them--and the president has, disgracefully, failed to honor his promise."

(Snips from http://www.breitbart.com/Big-Government/2012/11/11/Disgrace-Barack-Obama-Broke-Promise-to-Honor-Cold-War-Veterans)
"When many of our Cold War veterans returned from their service, they went back to their families, jobs and lives without public fanfare. Freedom is passed down from one generation to the next by the American patriots who are willing to stand between a threat and our civilian population. It is long overdue that our Cold War veterans receive the respect and recognition of our grateful nation."
(http://www.americancoldwarvets.org/Cold-War-Veterans-Recognition-Day-H.Res.900 NOTE: website is no longer active)
Perhaps President Trump will award all Cold War veterans the Cold War Victory Medal.
The Cold War Certificate
Under the 1998 National Defense Authorization Act, the Secretary of Defense approved awarding Cold War Recognition Certificates to all members of the armed forces and qualified federal government civilian personnel who faithfully and honorably served the United States anytime during the Cold War era, which is defined as Sept. 2, 1945 to Dec. 26, 1991.
https://historyhub.history.gov/docs/DOC-1094
---
COLD WAR LINKS
10 Reasons Why the Cold War Matters
Allied Forces Cold War Association 
Cold War History
Cold War Museum 
Cold War (TV series) 
Ten Histories of the Cold War Worth Reading
Thoughts of the Cold War (blog)
US Navy Museum Cold War Gallery
What Was the Cold War? (Great 5 minute video.)
You can see interesting YouTube videos by searching for "Cold War," "Continuity of Government (COG)," "Cold War bunkers," "MAD," etc. You can actually see the USS Wright's sister ship, the USS Northampton, from 5:55 to 6:47 in THE ANSWER TO THE PRESIDENTS CALL: Military Cold War Exercises in the 1960's.
USS WRIGHT LINKS
U.S.S. Wright CC-2 (See photos of my time aboard the ship.)
USS Wright Association
USS Wright Novelty Items 
USS Wright Unit Page
INSPIRATIONAL LINKS
A fellow Cold War vet called me (Karl Priest) a "Cold Warrior" and I pointed out that I was only a flunky. So, who would qualify to be labeled a "Cold Warrior"?
I volunteered for Vietnam duty, but Uncle Sam had other plans (God's perfect plan). Besides being a Cold War veteran, I am a Vietnam Era vet.
"A Vietnam Era Veteran is a person who served on active duty for a period of more than 180 days, any part of which occurred between August 5, 1964 and May 7, 1975, and was discharged or released with other than a dishonorable discharge." (http://www.dol.gov/esa/ofccp/regs/compliance/fsvevraa.htm NOTE: website is no longer active)
TROPO TOWER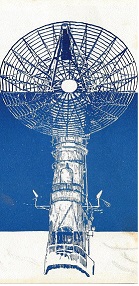 Both the Wright and the Northampton had a huge dish-like structure used for Troposphere Scatter Communications called a Tropo tower. Troposcatter allows microwave communication beyond the horizon.
COMMAND SHIP PATCHES
Motto:  VOX IMERII (Command Voice or Voice of Command)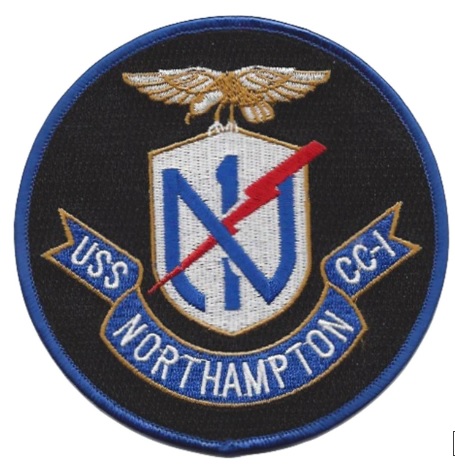 For questions,

email:
 

coldwarvet68

[at]

aol.com